Applications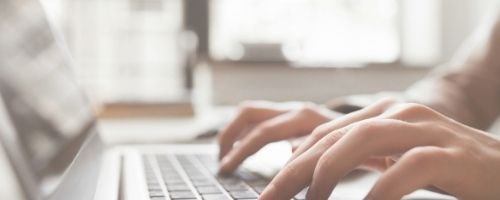 Q: What happens once I've applied for a full-time further education (FE) course online?
A: You will get an email confirming we have received your application, you will then be invited in to an Information Sharing Appointment (ISA). 
Q: What happens once I've applied for a full-time high education (HE) course?
A: You will be invited to interview.
Q: What happens during an Information Sharing Appointment (ISA)?
A: You will find out a lot more about your course and you may be asked to complete an aptitude test or assessment (we'll let you know if that's the case for you). We look forward to meeting you!
Q: How will I know if I am going to be offered a place?
A: Once you've been to your ISA, we'll let you know.
Q: What do I do if I don't get offered a place?
A: Don't panic! If we don't offer you a place on the course you have initially applied for, it's because we don't think it's suitable for you, but there are always other courses available which would be a better match for you. You will be told about these and you can apply in the same way as you did the first time.
Q: I haven't got my exam results yet, can I still apply for a course?
A: Yes, we encourage you to apply as soon as possible. We may be able to make you an 'unconditional offer' straight away; that means you've definitely got a place on the course. Or we give you a 'conditional offer' which means we need to wait for your exam results before we give you a definite place.
Q: What do I need to do if I get a 'conditional offer'?
A: You up-load your results once you get them in the summer and, if you get what's needed, we'll convert the conditional offer to an unconditional offer and be ready to welcome you at the start of the term!
Q: What happens if I don't get the results I need?
A: Again, don't panic! There will be another course suitable for you and you will be offered guidance.
Q: I am a mature applicant, can I be considered on a course based on my work experience?
A: Yes, applicants over 21 will be assessed for their chosen course based on work experience, an additional assessment may also be required.
Q: I didn't get GCSE maths and/or English at school – can I re-take them alongside my full-time course?
A: Yes! We will talk to you about how you do this once you're enrolled (make sure you let us know!).
Q: I didn't do well at school and struggle with academic courses, are there options for me?
A: Yes! There are a number of vocational courses (these are what we call our 'hands-on' courses); have a look at the full range of courses on our website.
Worries, anxieties, concerns
Q: I'm worried about coming to a new environment, is there someone I can talk to?
A: Yes, a member of the Student Services team will be happy to meet you and ease any worries you have, we can also give you a tour of the campus (once we're out of lockdown!).
Q: I receive support with my mental health from other agencies, does that mean I couldn't access support from a welfare officer at UCM?
A: No, we would support you and work alongside other agencies who are already involved in your care.
Q: I received help at school with my academic work, will I be able to get support at UCM too?
A: Please let us know if this is the case and we will put you in touch with the staff member who will happily discuss your needs with you.
Q: I'm dyslexic, will I get help at UCM?
A: Yes, please make sure we know and we will make sure you meet up with our dyslexia co-ordinator who will put in place the support you require.
Q: I have previously experienced bullying and didn't feel supported. What would happen if I felt bullied at UCM?
A: We very, very rarely have issues with bullying at UCM and we take a zero tolerance approach to it if it ever does happen. If you did feel you were being bullied at UCM, you should tell us immediately and your tutor and a student welfare officer will deal with it as a matter of urgency. You would be fully supported by a Student Welfare Officer. 
Q: How would I access support from a Student Welfare Officer?
A: Pop in to the Student Services Centre (you will be made very welcome), or you could email welfare@ucm.ac.im or ask your tutor to request an appointment.
Q: Can I meet with someone before I start my course to sort out the support I know I will need?
A: Yes you are welcome to contact Student Services to arrange an appointment with the appropriate person and we can discuss the type of support you require.
Q: I have a medical condition, do I need to inform someone of this?
A: If you have a medical condition that may require treatment for whilst you are on campus, then if would be better if you informed us of it; we can then keep a healthcare plan on site in case any medical matters or emergencies arise.
Q: Is there any financial support for students for essential items needed for their course?
A: We may well be able to help you on a one-off basis; make an appointment to see someone in Student Services and we'll be happy to talk through your particular circumstances.
Q: I have small children; can I get any help with childcare payments?
A: Again, we may well be able to provide you with guidance and support; get in touch with Student Services and we'll be happy to make you an appointment to discuss your particular circumstances, just email studentservices@ucm.ac.im
ABOUT YOUR course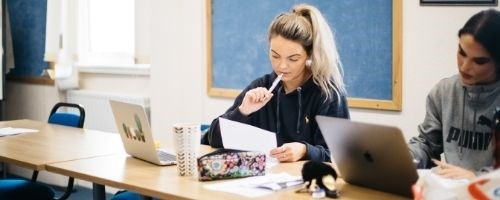 Q: How many hours a week is a full-time course?
A: A full-time course ranges from 15 – 21 hours per week and your timetable will be specific to your course, i.e. all courses run on a different timetable; not all courses are in 5 days a week and you do not have to stay on campus when you are not timetabled in classes (although you're always very welcome!).
Q: Can I work alongside my full-time course?
A: Yes, many of our students have part-time jobs.
Q: Can you tell me about the lunchtimes and breaks, please?
A: The majority of courses will have lunch either from 12:15 – 1:15 p.m. or 1:15 – 2:15 p.m. The facilities available to you will depend on which campus you study at. #2, located at the main campus, provides a selection of hot and cold meals and snacks. When that's closed, a 'Grab and Go' facility is available. Other campuses have well stocked vending machines or you may want to consider bringing a packed lunch. You will receive a timetable during your induction; times of breaks and lunch hours will vary. Generally though, if you have a two-hour lesson you will be given a 15-minute break and if you are in for a substantial part of the day, you will be given an hour's break for lunch.
Q: Will I have to wear a uniform?
A: There is no dress code as such at UCM, but depending on your course, you may be expected to wear a uniform or PPE, e.g. chefs' whites for catering courses, steel toe-capped boots for bricklaying. You will be told about this before you start.
Q: Will I need to buy equipment/books for my course?
A: It might be that equipment is required for certain courses, but you will be told about this before starting.  The Library has many course related books available and it also operates a  laptop, tablet, router loan scheme.
Student Experience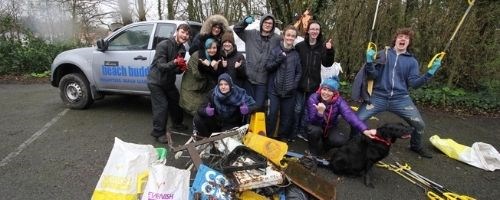 Q: I'm quite sporty and would like to continue my involvement in sport when I'm at college, but I'm not actually going to be on a sports course. Are there any clubs I could join?
A: UCM has a Health and Well-being co-ordinator who organises all kinds of sporting activities and will respond to specific requests. Please email hannah.may@ucm.ac.im
Q: I would like to expand my CV; what does UCM offer to help me do this?
A: A number of courses provide opportunities for students to organise and/or take part in fundraising or awareness raising activities. UCM has a Student Council that runs events and activities throughout the year. You could always stand as a candidate for president or any other of the management roles in the Council. Joining the Student Council is also a great way to meet new people and make some good friends.