Where you will be based will depend on the programme you are on, please see below for details: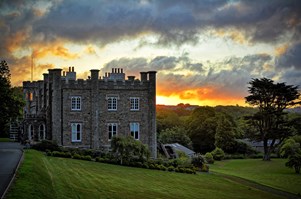 Douglas BA Hons Business Management
BSc Hons Accounting & Finance
BA Hons Event Management & Marketing
BSc Hons Computer Science/Applied Computing
MSc Advanced Computer Science
Professional Work based degrees (WBIS)
Foundation Degree in Sport Coaching
Where to eat here? - There are vending machines serving snacks and hot and cold drinks and food outlets are nearby on the quay.
Elmwood House, off Glencrutchery Rd, Douglas
BA Hons History & Heritage
Fd Health in Society/BSc Hons Public Health
BSc Hons Cybersecurity
BA Hons Visual Communication & Digital Media
Where to eat here?
The Refectory – Homefield Road Campus
This is the main eatery at the UCM where you will find a selection of homemade dishes using locally produced ingredients available on a daily basis, along with an extensive salad bar and healthy options including foods suitable for those requiring vegan, vegetarian or gluten-free choices.
Opening Times
Monday – Thursday: 8:30am - 5:45pm
Friday: 8:30am – 3:30pm
Grab & Go – Homefield Road Campus
Located near reception, this facility offers light snacks, hot and cold drinks and confectionary when the Refectory is closed. It is open every day from 2pm-7.45pm (closing time subject to change)
You are of course welcome to bring in a packed lunch or food from other establishments to consume in the Refectory or outdoor seating areas located around the UCM. Vending machine facilities are available outside of the normal Refectory opening times.
how to get to our campuses
We recommend you travel to UCM by bus, as we have limited parking and we like to promote sustainable transport. Depending on your age and how much you will use the bus, here are your options:
Go easy: Smart Card
Going to use the bus a lot? Head down to the Welcome Centre in the Sea Terminal over the summer period and ask which Go easy card you are entitled to. You can get unlimited travel on Bus Vannin for 28 days which will cost between £40-£80 depending on your age.
SCH3: Smart Card
Only planning to use the bus from your home to College and back? If you are 19 or under, and a full-time student you are entitled to a SCH3 smart card; this card will be valid during College term time on journeys to/from College. Your College ID card must also be carried and shown to the driver. All journeys between home and College taken within the time limits, will cost 40p and will be deducted from the card each time it is used.
Still not sure what to do? Visit Isle of Man Transport website or call 662525. You can get the bus timetable here.
Please note you cannot get any concessionary travel on the X3 'Manx Express' or 'Hullad Oie' (Night Owl).